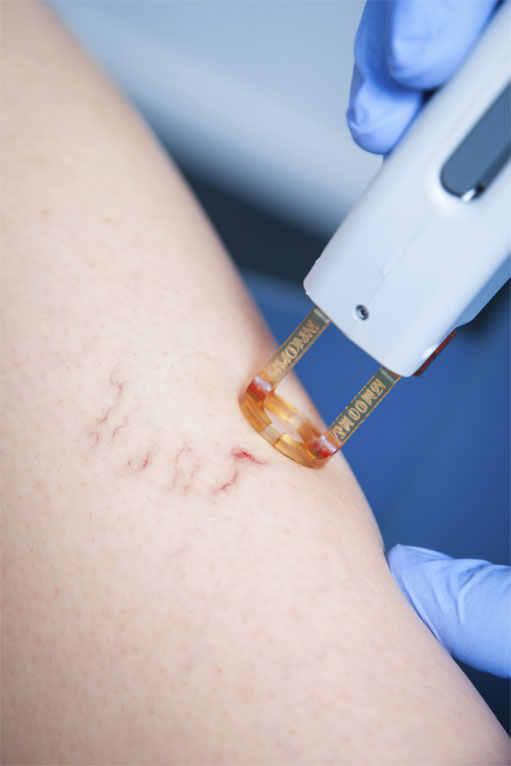 Spider veins, named for their web-like appearance, are tiny clusters of veins that appear near the surface of the skin. Usually red or blue in color, spider veins may cover small or large areas of the skin.
Individuals who wish to reduce or eliminate the appearance of spider veins can undergo laser spider vein removal at our Milwaukee, WI practice. Here, Dr. Tracy McCall and our team at Lake Country Plastic and Hand Surgery explore this condition and discuss areas of the of the body targeted during laser spider vein removal.
Where Do Spider Veins Occur?
Though spider veins are most commonly found on the thighs, calves, and ankles, they can appear on other areas of the body as well. For instance, they can also develop on the:
At our practice, we can treat spider veins on any area of the body using advanced laser technology. This type of treatment targets the problematic veins under the skin, but does not damage the outer layer of epidermis.
Common Causes of Spider Veins
Like many medical conditions, spider veins are hereditary. Therefore, if your parents or grandparents have them, you are likely to develop them as well. Spider veins are more common in older patients, and can be linked to increased pressure in the legs. The condition can be exacerbated by prolonged standing, so work and lifestyle can play a role as well.
Other causes of spider veins include:
Excessive sun exposure
Pregnancy
Hormones
Obesity – current or previous
Family history of blood clots
Clothing that can affect your circulation
Injuries or trauma
Venous insufficiency, a condition in which the veins become weak or damaged
Size of Target Area
One of the most important factors in laser spider vein removal is the size of the target area. As aforementioned, some individuals may only have one or two small patches, while others can have large areas of concern.
As a result, some patients may only require one or two treatment sessions, while others may need several to achieve the desired outcome. Because the procedure is tailored to the specific needs of the individual, this can affect the total cost of treatment as well.
Benefits of Laser Spider Vein Removal
Laser spider vein treatment offers a number of advantages. Most significantly, it reduces the appearance of spider veins, helping you feel more confident and self-assured.
Because we use the latest advanced technology at our practice, spider vein treatment does not require injections. We simply use our handheld laser to target the problematic areas. This also means that patients can undergo treatment with little to no pain. Furthermore, laser therapy is quite effective for facial spider veins, as it does not cause severe bruising.
Contact Our Practice to Learn more
If you are self-conscious about spider veins, schedule an appointment at Lake Country Plastic and Hand Surgery. Dr. McCall can help you determine if laser spider vein treatment is right for you. Contact us online or give us a call at (262) 523-1200.