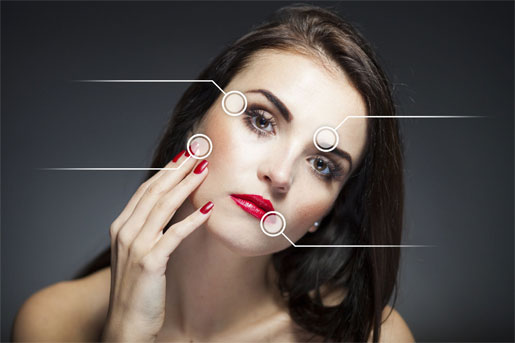 While facial plastic surgery remains popular, more and more people are turning to non-non-surgical treatments to help fight the signs of aging and have smoother, younger-looking skin. Dr. Tracy McCall has noticed many patients from the greater Milwaukee, WI area turning to cosmetic injections. This includes BOTOX® cosmetic, a popular anti-aging injectable for dynamic wrinkles, and dermal fillers, a wide array of injections that help add youthful fullness to the injection site.
The team at Lake Country Plastic & Hand Surgery would like to take a moment to compare BOTOX® injections to dermal fillers. While they both fight wrinkles, they work differently and can be used to achieve different sorts of facial rejuvenation results.
About BOTOX® Injections
BOTOX® injections are a type of cosmetic treatment that halt muscle contractions in the injection site. By doing this, the wrinkles that are triggered by facial expressions and facial muscle movements are not visible. This leaves the skin looking smooth, refreshed, and youthful.
Wrinkles BOTOX® Injections Can Treat
BOTOX® injections are most ideal for dynamic wrinkles, which are the wrinkles only visible when certain facial expressions are made. That may include these kinds of wrinkles:
Frown lines
Furrowed brows
Crow's feet
Smile lines
Laugh lines
In terms of its other cosmetic uses, BOTOX® injections are generally not used to address other kinds of lines, though there are exceptions. We'll get to those in a bit.
How Long Does BOTOX® Cosmetic Treatment Last?
The final results of BOTOX® injection treatment will vary from patient to patient. For the majority of patients, however, the results of BOTOX® injections typically last for about six months. After that time has passed, dynamic wrinkles will typically begin to show up again. Repeat BOTOX® injections can be administered to prolong the cosmetic benefits of treatment.
About Dermal Fillers
Dermal fillers are a completely different class of cosmetic injectables. Rather than halting muscle contractions, dermal fillers help add volume to the injection site. Plumping up the facial features and filling in lines has a number of anti-aging benefits.
There are many types of dermal filler solutions available, though the most popular fillers are often hyaluronic acid based (such as Juvederm®) or are derived from collagen. Other dermal fillers may contain special formulations, such as Radiesse® and Artefill®.
Cosmetic Flaws Dermal Fillers Can Treat
Dermal fillers are able to treat a whole host of cosmetic flaws. Most notably, they can be used to treat static wrinkles, which are wrinkles that are visible when the face is at rest. This may include:
Deep forehead lines
Nasolabial folds
Marionette lines
Mouth lines
In addition to static wrinkles dermal fillers can also be used for the following purposes:
Filling in acne scars
Promoting fuller facial features
Lip augmentation
Cheek augmentation
How Long Do Dermal Fillers Last?
The duration of most dermal fillers is typically around six months, with repeat filler injections administered to prolong the results as needed. Some specially formulated dermal fillers may last for a year or longer. During the consultation process, we can go over all of your dermal filler options and outline their respective durations.
Combining BOTOX® Injections and Dermal Fillers
As we noted above, it's possible to use BOTOX® injections in combination with other procedures for ideal cosmetic results. One example of this is treating vertical lip lines, also known as smoker's lines. Both dermal fillers and BOTOX® injections will help smooth out these age-related lines, helping you look much younger in the process. The results will last several months, and repeat injections can be used as needed.
Learn More About Your Treatment Options
To learn more about injectable solutions and how they can benefit you, be sure to contact an experienced plastic surgeon and cosmetic skin care specialist. The team at Lake Country Plastic & Hand Surgery is here to help. You can contact our office in Waukesha by phone at (262) 546-8170.