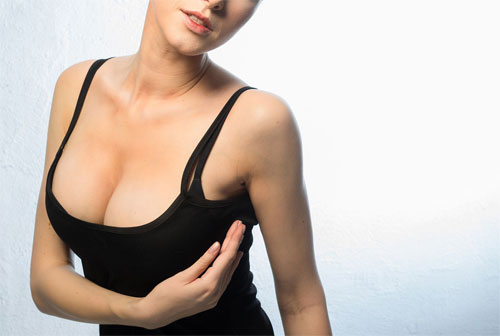 Women who are dissatisfied with the shape or size of their breasts can benefit from breast augmentation at Lake Country Plastic and Hand Surgery. Tubular breasts is a congenital condition in which the breasts are small, narrow and constricted. Oftentimes, the areolas are visibly large, protruding, and puffy.
Although tubular breasts do not pose a health risk, women with this condition often feel self-conscious about their appearance. Here, our Milwaukee, WI plastic surgery team explores breast augmentation for tubular breasts and discusses how treatment can offer patients a boost in confidence and an enhanced quality of life.
What Causes Tubular Breasts?
Generally, tubular breasts do not become apparent until puberty. While many experts theorize that the condition is due to events that occur in utero, the medical community still does not fully understand the exact cause of tubular breasts.
In all cases of tubular breasts, both breasts lack sufficient tissue in both the horizontal and vertical dimensions.
Breast Augmentation for Tubular Breasts
Women who wish to change the appearance of their tubular breasts can undergo breast augmentation. The specific steps involved are slightly different compared to conventional breast augmentation due to the specific nature of the condition.
For example, rather than simply inserting breast implants, the breast tissue may need to be expanded. To achieve this, a small incision is created and a tissue expander is placed.
Once the breast tissue has been adequately stretched, a second surgical procedure will be scheduled. During this visit, the expander is removed and a breast implant is inserted in its place.
In many cases, a breast lift is performed in conjunction with breast augmentation. This helps to normalize the appearance of the areola and nipple.
Am I a Candidate for Breast Augmentation for Tubular Breasts?
Women wishing to correct their tubular breasts with plastic surgery should be in good general health and close to their ideal body weight. Patients should also be free of any medical condition that makes surgery a potential risk.
Healing and Recovery after Tubular Breast Treatment
Following breast augmentation for tubular breasts, patients can expect a few weeks of downtime. Any discomfort can be managed with prescription and over-the-counter pain relievers. Residual swelling will likely be apparent until three to four weeks after the procedure.
In most cases, you will need to avoid strenuous activity for at least three months, or until otherwise directed by your surgeon. You will also need to steer clear of pools, hot tubs, saunas, or any environments that could cause infection.
Are There Risks?
Breast augmentation for tubular breasts carries some risk, just like any surgical procedure. These risks may include bleeding, infection, scarring, or an allergic reaction to the anesthesia.
In some cases, patients report a loss of sensation in their nipples. While these things should be considered, they can be largely avoided by choosing an experienced and knowledgeable plastic surgeon.
Breast augmentation continues to be the most popular cosmetic surgery in the United States, with over 300,000 procedures performed each year.
Contact Lake Country Plastic and Hand Surgery Today
If you are self-conscious about your tubular breasts, consider what breast augmentation can do for you. To explore your treatment options, or to schedule a consultation, contact us online or call us at (262) 523-1200.