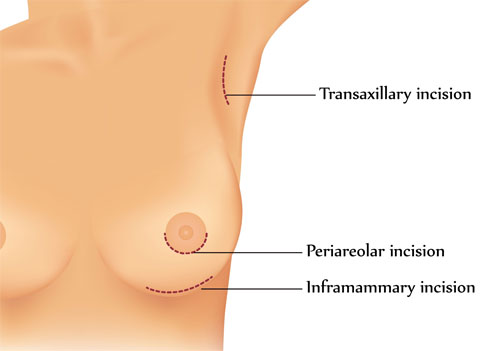 At Lake Country Plastic and Hand Surgery, we have helped countless patients in the greater Milwaukee area achieve fuller and better shaped bustlines thanks to breast augmentation surgery. Breast augmentation involves the placement of breast implants through carefully considered incisions. By doing this, a patient will experience enhanced size and improved shape of her breasts, as well as an overall enhancement of her curves and body contour.
Let's consider the inframammery incision method for breast augmentation surgery in more detail.
What is an inframammry incision?
The inframammary incision for breast augmentation is one of the most well known and common incisions for the procedure. The inframmary incision is located along the underside of a patient's breasts, generally along the crease of skin between the chest wall and the underside of the breast itself. Through this incision, a breast implant can be placed and properly positioned to achieve an enhanced overall figure.
The Advantages of the Inframammary Incision
The primary advantage of the inframammary breast augmentation incision is that it allows a plastic surgeon ample ability place and position a breast implant as needed. The placement is generally well hidden as well, which means plastic surgeons can achieve excellent results that look and feel natural. There is a great deal of versatility using this incision method, which makes it ideal for all kinds of breast implant sizes, shapes, and compositions, as well as various implant placement methods relative to the mammary gland and pectoral muscle.
The Disadvantages of the Inframammary Incision
The primary disadvantage of inframammary breast augmentation incisions is that they involve an incision on the breast itself. This can be a concern for patients who have issues over visible scarring and other problems with regard to post-surgical aesthetics.
A Word on Post-Surgical Scarring
While post-surgical scarring can be an issue for patients, rest assured that all efforts will be taken in order to reduce the extent of the incision as well as the possibility to post-surgical scarring. The incisions will fade with time, and they are usually well hidden by various kinds of tops, bathing suits, and undergarments.
Since genetic factors play a major role with regard to the visibility and nature of scarring following a surgical procedure, it's important that these issues be discussed during the consultation process. If visible scarring or problematic scarring is a concern for patients, then we can go over alternative incision methods
Other Incision Techniques for Breast Augmentation Surgery
In addition to the inframammary incision method, there are three other common incision methods to consider:
Breast augmentation using an incision around the areola (periareolar breast augmentation)
Breast augmentation using an incision in the armpit (transaxillary breast augmentation)
Breast augmentation using an incision in the navel (trans-umbilical breast augmentation, or TUBA)
Tailoring a Surgery to Meet Your Needs
Given all of the options available to perform an effective breast augmentation procedure, there is lots of ability to tailor a surgery just for you and your needs. We will go over all of the pros and cons of the various surgical options with you so that you can make a well-informed decision about your overall surgical process and needs.
Learn More About Breast Augmentation Surgery
To learn more about breast augmentation and how the procedure can help you have a more appealing appearance overall, it's important that you contact our cosmetic plastic surgery center for a consultation. The team at Lake Country Plastic and Hand Surgery will be able to answer all of your questions and address your concerns.