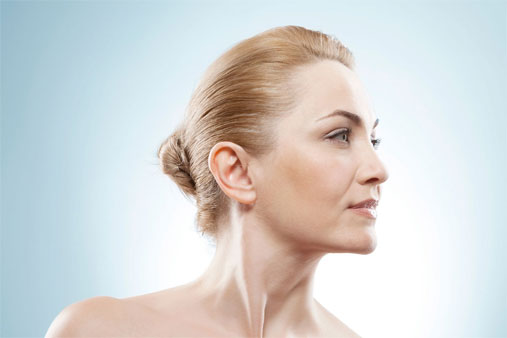 Weakened elasticity, poor collagen production, excess fat, and the natural pull of gravity all play a part in the jaw line being one of the first to show signs of aging. Once the skin starts to sag and excess fat develops, it can create the appearance of jowls, making you appear overweight and older than your years. At Lake Country Plastic and Hand Surgery in Milwaukee, WI, Dr. Tracy McCall provides a variety of facelift techniques and skin rejuvenation treatments to help reverse the signs of aging. A facelift for the jowls can remove excess fat and skin, as well as create a more contoured jaw line to improve your overall appearance.
What Causes Jowls?
The formation of jowls (sagging skin around the mouth, jaw line, and underneath the chin) can be caused by a number of factors. It is most commonly caused by weakened skin elasticity, excess fat, and the natural progression of aging. Other factors can include:
Smoking
Stress
Poor collagen production
Heredity
Excess skin
Soft tissue or fat recession
Sagging cheek fat
Extreme weight fluctuations
Excessive alcohol consumption
Sun exposure
No matter the cause, the results are still the same – fallen facial features, a disappearing jaw line, and poor self-confidence. If you are experiencing any of these side effects, it may be time to turn back the clock and reverse the signs of aging with a facelift.
The Facelift Procedure
Dr. McCall customizes each facelift to the patient's needs and desires. During your initial consultation, she will examine the aesthetics of your face, as well as review your cosmetic goals and current medical condition to determine if you are a good candidate. Once candidacy has been determine and realistic expectations set, she will create a personalized treatment plan.
The incision patterns and techniques differ and will be based on the patients' desires and age. Dr. McCall will do her best to make sure incisions are as discreet as possible, hidden within the hairline or within the natural creases of the face. Once the incisions are placed, the underlying tissues and muscles will be repositioned, excess fat removed, and the skin carefully re-draped to lift and tighten the jaw line.
To enhance your results even further, Dr. McCall also provides a variety of skin rejuvenation treatments, including dermal fillers and BOTOX® Cosmetic.
Benefits of Jowl Removal
Once you have fully recovered from your facelift, you will begin to enjoy your results. Patients who undergo a facelift for the removal of jowls can achieve:
A more defined, contoured jaw line
A rejuvenated, more youthful appearance
Minimized fine lines and wrinkles around the mouth and nose
Tighter, more toned skin
A boost in self-confidence
Schedule Your Facelift Consultation
Have you noticed the development of excess skin around your mouth and jaw line, giving you the appearance of jowls? It may be time for a facelift. As an outstanding board certified surgeon, Dr. McCall uses the latest tools and techniques to help patients achieve a younger-looking appearance. To schedule your facelift consultation, contact our office online or give us a call at (262) 523-1200.