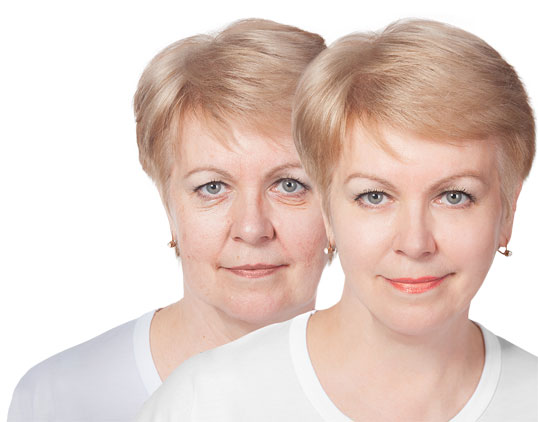 A facelift tightens the skin of the mid to lower face to improve facial contours and smooth out wrinkles. It is a popular treatment option for patients that are unhappy about the aesthetic effects of middle age.
Today, most people take it for granted that they can rely on a facelift to turn back the hands of time. Of course, this wasn't always the case. The facelift procedure has only been around for about a century, and it has changed a lot in that time.
The history of facelift surgery shows our Milwaukee, WI patients just how advanced the procedure offered by Dr. Tracy E. McCall is compared to those first ones performed in the early 1900s.
The First Facelift
There is actually some debate about who performed the first official facelift. As a new and controversial technique, surgeons and patients were discreet about treatment.
According to historians, Dr. Eugene Hollander performed a facial cosmetic procedure on a Polish aristocrat in 1901. He made two small incisions in the front of the ears so excess skin could be removed. However, he did not actually lift or re-drape the skin, which are characteristics of the facelift procedure.
Many instead credit Dr. Erich Lexer as the surgeon that performed the first official facelift. Lexer was a German surgeon who performed a facelift procedure on an actress in 1906. Lexer reportedly did lift and tighten the skin during this surgery.
Gaining Popularity
The facelift procedure may have been introduced around 1900, but it took many years to gain popularity and make its way to the United States. In the United States, the facelift became popular in the 1920s.
However, even then, facelifts were initially considered more of a reconstructive procedure for soldiers returning from World War I. This trend continued as soldiers returned from World War II.
Aside from soldiers, facelift surgery did slowly gain momentum among actresses and other performers. These celebrities were interested in the cosmetic benefits of facelift surgery.
However, the facelifts performed during this time did not look as natural, because they lifted only the skin and surface muscles.
Advanced Facelift Techniques
Advanced facelift techniques have made the surgery safer than ever, allowing patients to experience more natural looking results.
The most notable advance in the facelift technique came in the mid 1960s, when French surgeon Paul Tessier introduced the SMAS technique. This technique involves cutting deeper into the facial tissues to gain access to underlying muscles. By manipulating these muscles, surgeons can provide the refreshed and youthful appearance that patients want without dramatically lifting and tightening the skin.
This technique effectively smooths and lifts the skin without producing harsh, unnatural looking results.
Contact Us
If you are considering facelift surgery and would like to find out if you are an ideal candidate for this procedure, call (262) 523-1200 to schedule a personal consultation with Dr. Tracy E. McCall. Dr. McCall looks forward to meeting you and creating a treatment plant that will address all your unique needs and desires.