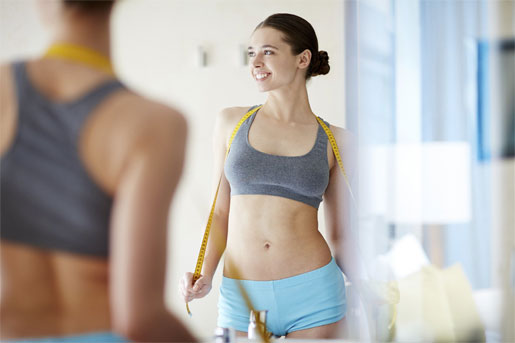 Plastic surgery has allowed many patients to achieve their aesthetic goals so that they feel more attractive and confident. Dr. Tracy McCall offers a wide range of cosmetic treatments at her plastic surgery practice, including body contouring treatments to enhance the figure, facial plastic surgery procedures to erase signs of aging, and breast surgery to improve the bust line.
While each individual plastic surgery procedure can greatly enhance a patient's appearance, results are even more remarkable when treatments are combined. Dr. McCall is frequently asked about combining breast reduction and tummy tuck for her Milwaukee, WI patients. Dr. McCall is happy to perform these procedures in conjunction so her patients can optimize the results of surgery. Together, breast reduction and tummy tuck can give the physique a slender and more toned appearance, while improving overall body contours.
Patient Candidacy
Prior to performing any plastic surgery procedure, Dr. McCall is extremely careful in determining whether a patient is an ideal candidate for treatment. Safety is our number one priority when considering suitable plastic surgery candidates. When plastic surgery procedures are being combined, the candidacy guidelines are even stricter.
Combo procedures, such as breast reduction and tummy tuck, require the patient to be on the operating table for a longer period of time. The amount of bleeding also increases when multiple procedures are performed at once. Both of these factors increase the risk of surgery and make it imperative that a patient is health enough to undergo a surgical procedure. Ideal candidates should be free of any conditions that could increase the risk of surgical complications, including high blood pressure, heart disease, obesity, and diabetes.
Benefits of Combining Breast Reduction and Tummy Tuck
Combination plastic surgery procedures do carry a slightly higher risk of complications. However, with Dr. McCall's skill and experience, along with the advanced surgical techniques she employs, a combined breast reduction and tummy tuck is still a safe procedure with a high rate of success. Many patients consider combining breast surgery and tummy tuck (commonly known as a "mommy makeover") because of the many benefits it provides.
Some of the greatest advantages of combining breast reduction and tummy tuck include the following:
More cost efficient: Combining a breast reduction with a tummy tuck can minimize the cost of surgical treatment. By undergoing two procedures at once, patients can save the cost of a second surgeon's fee, second hospital fee, and other costs that would be associated with performing the surgeries as two separate procedures.
One recovery: Plastic surgery recovery can be difficult. And while it is true that recovering from a combo procedure can take slightly longer than recovering from a single plastic surgery treatment, most patients still feel that this slightly longer recovery is better than going through plastic surgery recovery twice.
Enhanced results: The results of breast reduction or tummy tuck should be overwhelmingly positive, but when patients undergo a single procedure, it often draws attention to other areas of concern. For instance, a patient who improves the size and shape of their breasts through breast reduction may focus even more on unwanted fat and skin around the midsection. By combining a breast reduction and tummy tuck, Dr. McCall can optimize the results of surgery and provide patients with firmer, tighter breasts and a flatter, more toned tummy at the same time.
Schedule an Appointment
Fluctuations in weight, pregnancy, nursing, and aging are all factors that can alter the shape and size of the breasts and abdomen. If you're interested in improving body contours and restoring a more toned appearance to your figure, you may be an ideal candidate for a combined breast reduction and tummy tuck. To learn more about this combo procedure, schedule an appointment with Dr. Tracy McCall at your earliest convenience.