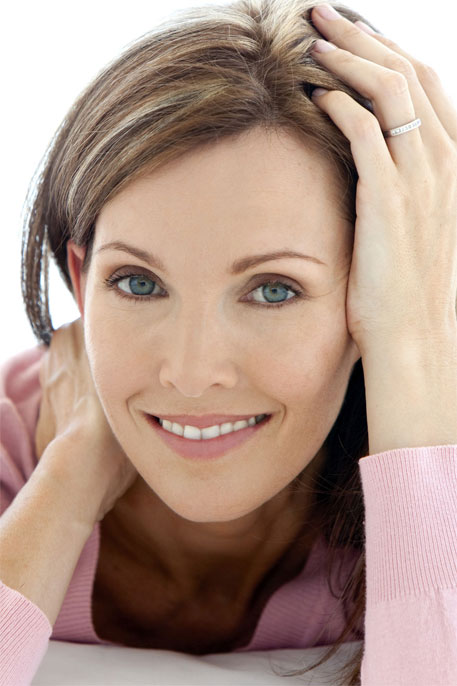 There are many types of lines and wrinkles that affect the face as we age. Perhaps one of the most noticeable is the appearance of glabellar lines, the elevens, which appear between the brows. These lines contribute to a perpetually aged, worn, or angry appearance. At Lake Country Plastic & Hand Surgery, Dr. Tracy McCall offers various skin care and facial cosmetic surgery treatments to diminish the appearance of wrinkles, including glabellar lines. To find out which treatment for glabellar lines is right for you, contact our Milwaukee, WI practice today.
BOTOX® Cosmetic
One of the commonly recommended treatments for glabellar lines is BOTOX® Cosmetic. BOTOX® Cosmetic can be injected to relax the corrugator muscles that cause glabellar lines. This reduces the appearance of the elevens, and also prevents the lines from getting worse. The results of BOTOX® injections take about two to three days to appear, and can last for about three to four months. When the results begin to fade, patients can undergo another round of BOTOX® treatment to minimize the appearance of glabellar lines. BOTOX® injections are best suited to patients with mild to moderate glabellar lines, and those that wish to undergo non-surgical treatment.
Brow Lift Surgery
Brow lift surgery is recommended to patients that have deeper glabellar lines, along with drooping eyebrows and horizontal forehead creases. During this procedure, discreet incisions are made along the hairline. Through these incisions, Dr. McCall can reposition the underlying muscles to reduce the appearance of wrinkles. She will then re-drape the skin across the forehead, lifting the brows and smoothing the skin. Healing from brow lift surgery takes about six weeks, but the result can last for up to 10 years.
Laser Skin Resurfacing
Laser skin resurfacing may be performed in combination with BOTOX® injections or brow lift surgery to improve the appearance of the skin and further diminish the appearance of wrinkles. During the laser skin resurfacing procedure, the outer layers of skin are removed, leaving behind fresher, more youthful skin underneath. The rejuvenated skin is smoother, and signs of sun damage, age spots, and other hyperpigmentation are less noticeable. For more comprehensive results, laser skin resurfacing is a great addition to any glabellar line treatment plan.
Preventing Glabellar Lines
Although all patients will eventually develop glabellar lines due to the effects of aging, there are steps patients can take to reduce their appearance and prevent them from forming prematurely. First, we recommend that patients limit sun exposure, and wear SPF 30 any time they are outside. Next patients should maintain a good skin care routine. This includes washing the face and using a high quality moisturizer in the morning and at night before bed. By the time patients reach their 30s, they may also wish to include anti-aging skin care products in their routine. Finally, patients should avoid smoking and drinking to excess, as these habits can accelerate the aging process.
If you are interested in undergoing treatment for glabellar lines, contact Lake Country Plastic & Hand Surgery today.