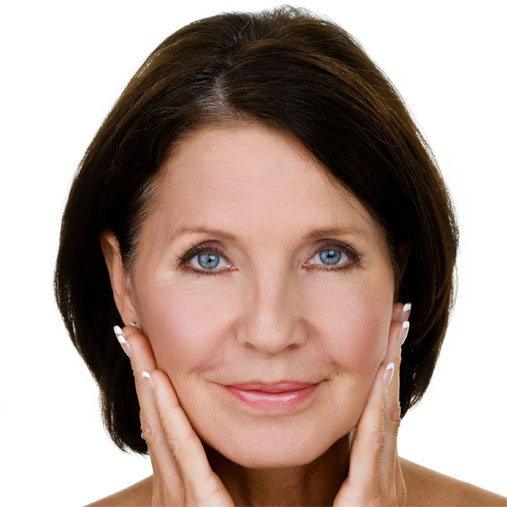 The jowls are the fleshy area of the lower cheeks. With age, the jowls can become more prominent as they begin to sag and droop, contributing to an older appearance. At Lake Country Plastic & Hand Surgery, Dr. Tracy McCall offers non-surgical skin rejuvenation and facial cosmetic surgery to minimize the signs of aging. She invites patients to schedule a consultation so she can examine the severity of their drooping jowls and recommend appropriate and effective treatment. To find out which treatment for sagging jowls is right for you, contact our Milwaukee, WI practice today.
Dermal Fillers
For patients that desire a more conservative treatment option, dermal fillers are an excellent option. Dermal filler injections do not require surgery, and result in mild side effects with little downtime. Dr. McCall can inject Artefill®, Juvederm®, or Radiesse® into drooping jowls to fill out the skin and create a tighter and smoother appearance to the lower face. Dermal fillers are ideal in cases in which the jowls have mild to moderate sag as a result of facial fat loss.
The results of dermal filler injections can last anywhere from three months to two years, depending upon the type of filler that is used. Immediately, after treatment, patients may have some light redness, swelling, or bruising in the treatment areas. These side effects are typically minimal, and should fade in a couple of days.
Facelift Surgery
While dermal fillers can treat certain cases of drooping jowls, some patients desire more dramatic and long lasting results. These patients are best suited to the facelift procedure.
During facelift surgery, we will administer anesthesia to keep you comfortable during surgery. Then, Dr. McCall will create an incision that runs along the hairline from the temple to the lower scalp. Through these incisions, she may reposition the underlying fat and tissues, tighten the muscles, and lift up the skin to reduce the appearance of the jowls.
During the next several weeks, the patient will recover from surgery. During this time, patients may experience discomfort, bruising, and swelling. Although bruising and pain typically subside within two to three weeks, swelling can last for several weeks. During this time, it is important to avoid exposure to the sun, wind, and other environmental elements. Strenuous activity or exercise should be avoided for about six weeks. In addition, patients should make healthy lifestyle choices, such as not smoking, minimizing alcohol consumption, and eating a well-balanced diet.
After two to three months, the majority of the swelling should subside and the tissues, muscles, and skin healed. At this point, patients can begin to enjoy the results of facelift surgery, including reduced jowls. With proper care, the results of your facelift surgery can last for 10 years.
Schedule Your Facelift Consultation
To find out if you are a good candidate for dermal fillers or facelift surgery, contact Lake Country Plastic & Hand Surgery today. Dr. McCall will discuss your cosmetic goals and examine your jowls to determine which treatment is most appropriate in your case.